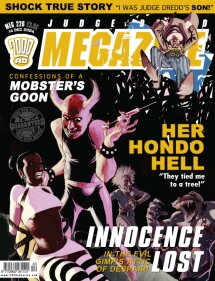 (
LINK to BARNEY
)
A great Frazer Irving cover showing where we left Jack Point in the last Simping Detective episode. Don't you think the guy with the syringe looks like Keith from
The Prodigy
?
An interesting
Dredd
, drawn by Goddard and Teague and written by Wagner, had me disorientated as it opens with Dredd having a family! The poor little boy trying to eat his breakfast gets a real Justice Department work over. I won't say much more as it might ruin the central kicker, but suffice to say Dredd ends up dealing with a crime that happened many years ago. I liked this story, I liked the opening few pages where you don't know what's going on and I thought the pacing was good. Nice art too.
The Simping Detective
story
Innocence: A Broad
finished this issue and wrapped up nicely. I really liked this story, perhaps not as much as Jack's previous outing, but very good nonetheless. As I have said previously, this is a complex tale and certain panels needed reading more than once, but I do tend to rush stories I enjoy so I will shoulder some of the blame. Come back to the Meg soon, Jack!
I can't believe
Shimura
finished! Another example where a story needed more space to be told. It had been set up brilliantly in the first two episodes, then rushed to a conclusion in this issue. To be fair, it wasn't the worst offender as the story flowed reasonably well but it could have been so much more. I really liked the end and there is some unfinished business between Dredd and Inspector Inaba. I did find the big fight scene a little confusing as to what actually happened, but apart from that Andy Clarke's art has been pretty good.
We then had a complete story called
Mega City Noir: Goons, Goons, Goons...
This was written by Spurrier and set in the same district of Mega City One as The Simping Detective - Angeltown. Spurrier introduces the district (perhaps with half an eye on the trade collection as we know all about the area from Jack Point's adventures) and sets about telling a story of informers, gangsters and good old revenge and betrayal. An excellent story this one. Lovely art too (Cliff Robinson on pens, Esteve Polls on pencils).
Young Middenface
DIDN'T finish this issue. I was really expecting it to as usually they are three episode stories. However it finished on a cliffhanger and I'm looking forward to the next instalment.
WMD
, the
Anderson
story, ended its six part run. The mysterious magician part of the Justice Department seem to be playing a strange game in relation to this half-life virus and it stated at the end of this episode that a new Anderson story begins next issue. We have had a lot of Grant and Ranson Anderson stories recently, none of them actually involving Anderson herself (in her physical form anyway). Be interesting to see where this goes next. By the way, the conclusion worked for me but I think the story was still too long. However, there may be plot devices in there that will be used later...
Charley's War
continued to be brilliant, and it was nice to see Smith Seventy back. He has moved from machine gun, to tank, to training rats! And everything is all still 'a bit technical'. In the sea of misery that is the First World War, it's characters like Smithy that provide a little light relief.
Metro Dredd
featured a pirate-themed block war which was quite fun.
Onto the text articles, and the
Dredd
fiction was a reasonable story. If you don't normally read these, I wouldn't recommend starting here was it was a pretty good yarn if you like them already. In
Heatseekers
, we re-visited The Box Of Delights in the
Cult TV
section, which freaked me as a kid and the author, Jonathan Morris, compares in quality to Lord of the Rings.
Orient
reviewed Fist of the North Star TV series saying it was rubbish, but because it was released at the same time as the brilliant Akira got a lot of viewings it didn't deserve. I'm not really in to Manga, but I am liking these articles as I am getting a bit of an insight. I skipped the Si Spurrier
Movies
column, having decided his writing style isn't my cup of tea. Sorry fella, but please feel free to keep writing The Simping Detective! I read the first few paragraphs of the
Comic
section about The Goon, but I didn't maintain interest.
The highlight was
You're Next, Creep
. After a load of issues going on about comic characters, Gordon decided to unleash the spleen and have a right go at comic artists. When Gordon goes off the deep end like this, it's highly entertaining! He comes up with some gems! He lists all of his anti-artist grudges. I'm sure not all artists are like this, but it gave me a giggle!
Robin Smith
returned in the
Interrogation
slot where David Bishop interviewed him about life as a freelancer. He has drawn some interesting strips, the vast majority of which he seems to hate. He is very self-critical and finds an awful lot to moan about, just like in the last issue. I hope next time we find a creator who seems to enjoy what they do! I thought some of his featured work was pretty good.
The Dredd Files
ground ever onwards.
And finally... Lord Barnes' editorial was an interesting account of a book he acquired called Its A Mans World that is all about post war men's mags from 70 odd years ago. They make Nuts sound like Horse and Hound!