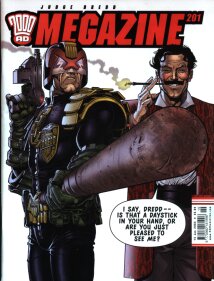 Sadly, I'm missing the Gold reprint which came with this Meg, so I can't comment on it. However, this is a special bumper edition launch issue with 148 pages. It kept me quiet for quite sometime. I won't go into the ins and outs of every article, but there was a lot to like. Top 3 for me were:
Judge Dredd - War Crimes
: Written by Gordon Rennie and drawn in a lovely style by Lee Sullivan (known more for his Doctor Who artwork), this was a terrific one-part story - and I found it quite moving at the end. It is certainly one of the best Dredd stories I've read in a long time, if not ever! A dying woman is arrested for distributing leaflets claiming her son was not a traitor. He was executed during the Apocalypse War for being a Sov spy. Dredd smells some honesty in her story, and sets off to investigate further by questioning those who knew him in the past...
Devlin Waugh - Red Tide - pt.1
: There is an excellent text article, Waugh is Hell, written by David Bishop (of Thrill Power Overload fame) which introduces the character of Devlin Waugh - how he was incepted, his previous appearances and a synopsis of his story so far. The story is set in the Dredd Universe. This opening episode sees a family travel over the Black Atlantic to the Bahamas to go vampire hunting.. The paintings by Colin MacNeil - wow. I'm saying 'painting' - it might be clever computer trickery - someone will set me right if I've got it wrong!
Family - pt.1
: No computer trickery for this art - looks all penned by Simon Fraser - and I like a bit of traditional black and white inkwork. The intro in the Meg reveals it's set in the near future, so this is one of the stories set away from the Dredd Universe. A crime family run an entire town - and nothing happens without their say-so. A new cop arrives on the scene, eager to set things right...
The other stories,
Judge Dredd Phartz
and
The Kleggs!
fell fairly into the "OK' category for me. I didn't hate them, but didn't like them as much as these others.
The text articles held some of my interest. I hadn't realised
Thrill Power Overload
has started life in the Meg before it became a book - and this Meg has part 11. There is also an article on John Sanders, former IPC publisher, which I flicked through. Two text stories, a Dredd and a Devlin Waugh reprint also appear. I didn't read them - but maybe I will go back to them. I'll let you know...
All in all, a quality read and worthy of tracking down for the Dredd story War Crimes alone, although Red Tide and Family have definitely started well!