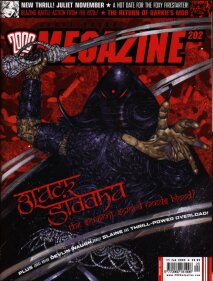 The reprint this month is bound into the main magazine. This is excellent news, as I was keen to read Slaine and Darkie's Mob. More on that in a minute... The Simon Davies Black Siddha cover art is disturbing, but awesome too! I rather like it.
The Judge Dredd this edition is
Bato Loco
, penned by Gordon Rennie and drawn by Simon Collby. Rennie is also the subject of the regular
Interrogation Cube
article, a one pager where creators are asked questions like how did you get into comics, what's your favourite movie and so on. Rennie treats this with a wonderful disdain! Anyway, Bato Loco is marvellous. It is done in the style of the main protagonist telling it as a story to the reader, and I really liked that style. Loco is a small time gangster employed by a local don to retrieve his property from a very unpleasant place after a smuggling operation goes wrong. Can he outwit the law?.
Devlin Waugh
and
Family
are building nicely. If I'm going to be a bit critical, Waugh did suddenly jump to a totally different scene than the previous episode. Kind of took me a page or so to figure out what had happened. I'll do more on Family next Meg review.
Two new thrills are
Juliet November
and
Black Siddha
. The November story is light and fluffy, and feels a bit silly coming after such a good Dredd. Juliet is a special type of Psi who accidentally starts fires when she gets excited. She has met a nice young man and wants to go on a date, so is applying for a licence from the Justice Department. Black Siddha couldn't be more different. Dark, moody and steeped in Indian mythology I cannot wait to read the next episode... The dream sequence is done especially well. It's kind of difficult to describe what it is about at the moment... A young Indian man, Rohan, is rebelling against his mothers wishes for him to settle down and find a nice wife and a good job. He has dabbled with the Indian occult previously and ends up crashing at his friends' house, who also dabble with magic. Whilst asleep, Rohan has a dream that will seemingly change his destiny...
As for
Slaine
, I didn't like it much. I haven't read any Slaine before and found this episode,
Time Killer
, heavy going. Mills introduces loads of characters very quickly and I had trouble remembering who was who. I'm not even going to attempt a synopsis, I will need to re-read it I think.
As for
Darkie's Mob
, it is a fantastic piece of early Wagner licenses from the archives of the British comic,
Battle
, dating from the 70s. A group of British soldiers are lost behind Japanese lines in Burma in 1942. Suddenly, Captain Darkie appears to lead them to safety. However, his brutal methods soon make the soldiers uneasy. And why are the Japanese so afraid of him? I bought Battle in the early 80's so I have some affection for these types of war stories. I'm looking forward to seeing how this plays out.
Both reprints have a short introduction, which for a newbie, I found informative and useful.
Text articles were more
Thrill Power Overload
and another Bishop article on the Stallone Dredd movie and how Fleetway tried to cash in on it to increase the comics' popularity. It was quite interesting so begin with, but then wandered off topic and I got bored.
The back page has a one page
Sinister Dexter
story
Bouncers
. Not sure if it was a reprint or an original, but it was a bit of fun anyway.
The Dredd text story was very good. Again, the text stories rather divide opinions - but I like to read them. Obviously, some are better than others, but this one was rather good. It was quite a long one, but I found I was absorbed and thought it was well worth the time investment.
The Alan Moore
Future Shock
reprint
The Bounty Hunters
was a bit of fun. I rather guessed the twist, and the script was a little silly in places, but I have a lot of affection for these old Future Shocks..
And finally... Thomas Hardy of East Finchley hates the new Meg layout and insists that it is returned to the old style. I do have a soft spot for
Dreddlines
, the letters page, and am glad it is back in the latest Meg 338 (latest at the time of writing, that is!).