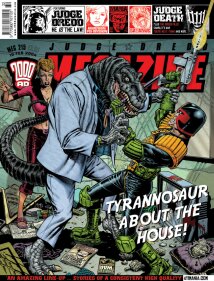 (
Link to Meg on BARNEY
)
What a cover! Chris Weston is possibly (and I mean 'possibly' because it's a big statement to make) my most favourite cover artist ever in the history of the world - ever. And I love this one! I first saw it over on his website ages ago, and to see it emblazoned on this Meg was a joy. I also require a time machine, because the competition this month wasn't some poxy DVD, but the pencils of this very cover and another version Chris did. Even the droids at the Nerve Centre were excited, because they fixed the competition so the entry date was January 2003, not January 2004! Naughty droids... ;-)
Moving on from the cover, to the actual story it depicts - which is of course
Blood of Satanus II - Dark Matters
. I had a good close look at the art this time, and decided it's not for me. Black and white pens I do like, but Mighten leaves too much white space in the background for my liking. Sorry Duke! The first panel was fun, because the mark of the 'chosen ones' is that their second toe is longer than their big toe. My wife has this on her feet, so I'm slightly worried right now... :-) Mills' story is good, and I'm enjoying it, and Duke's art doesn't distract from it - which is good news. The later panels are full of detail of the T-Rex fighting Dredd.
The stand-alone
Dredd
story
My Beautiful Career
was a really good story. It featured a meeting of Employees Anonymous being interrupted by a gun man with a special reason to hate the employed. I love these Dredd stories where we get an insight into the workings of Mega City One. Art droid Simon Coleby was on good form, and I feel I should give a shout out to Chris Blythe's colouring and the legend that is Tom Frame (RIP) and his lettering. Not noticing these things in reading the Meg is the highest form of praise because they simply work well as part of the overall package. Big shout out to colourers and letterers!
Judge Death Wilderness Days
dipped again for me. This strip is a real roller coaster. Don't get me wrong, I don't hate reading the episodes that aren't as good, but I can't help but think that less episodes and a higher pace would have served this story better. Frazer Irving's art is still on top form - positively mind-bending in places (or a better description might be psychedelic - if you can have psychedelic in black and white!).
I can't praise the
Judge Anderson Half Life
story enough - its absolutely gripping. I'm on the edge of my seat wondering what will happen with Anderson and how she is going to defeat Death this time. I won't say much about the storyline, as it's too big a spoiler I think, but suffice to say Alan Grant and Tony Luke have pulled off an interesting twist to the Anderson / Death battle. Ranson's art is delicious too! This is one of those stories where you really look forward to pulling open the next Meg and deciding whether to read it first or save it to last! I don't know how the events led up to this point, because they are chronicled in Progs and/or Case Files I haven't read, but that doesn't spoil the story at all.
In the latest
Whatever Happenned To
series we turn the spotlight on
Maria
- Dredd's long serving land lady whose a bit handy with a cooking laser when she needs to be. Again, I won't say much about the story because it's a bit too big a spoiler, but it was fun reliving some of Maria's most glorious moments. I don't think Gordon Rennie thinks much of Maria, though, as he kind-of spoilt her character a bit for me. I'm not one of these people who thought Walter the Wobot and Maria ruined Dredd or were bad for the strip - they were characters for a different era and I look upon them rather fondly. So for Gordon to strip away some of the things about Maria and make her out to be a bit of a fraud in some areas, I didn't like much. Manley is on art duties and does well.
In the Gold Reprint section we had a Dredd this issue called
Hitman
where Dredd finds himself a figure of hate for a lot of MC1 - and in particular one nasty individual who definitely wants him dead! It's a Wagner and Grant story, scribbled by Jim Baikie, and I quite enjoyed it. I also liked it for the fact I know know where, friend of this blog,
Greg Meldrum
gets his current
avatar
from on the
2000 AD Forum
...
Charley's War
continued to be brilliant in every way. Can't say much more than that, really! The boys have made some advances, but come across a village where the Germans have dug in. They also learn a bit more about the nasty Lieutenant Snell...
Text articles where
The Dredd Files
which detailed more fact and figures about early Dredd stories. I completely skipped it and will continue to do so. Gordon Rennie charted the history of the gay comic book character in
You're Next, Punk
. I'm sure a few characters might be a little surprised at how Gordon perceives them! And there was news that Dredd was hitting the pages of the Metro newspaper for a six month run. I wasn't commuting into London at the time, and actually even if I was I don't read the paper, so I wonder whether it was any good...?
And finally...Floyd Kermode got another letter published in
Dreddlines
. Is he a mate of Alan Barnes, or did Dreddlines only get about 5 letters a month? Drop us a comment or tweet if you are reading, Floyd! I know Dreddlines isn't printed often in the latest Megs because they don't get many letters - so drop them a note (dreddlines@2000adonline.com) if you like this blog, or if you have anything to say about the Meg. Or even if you don't like the Meg - they love a bit of negativity in those letters pages!
For further reading, here's the link to the
Meg 215 discussion
on the 2000 AD Forum. (I should point out I don't read these before writing, so as not to influence my view, but the first post also praises Floyd for his prolific letter writing!)