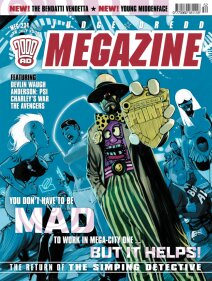 (
Link to BARNEY
)
What a great Frazer Irving cover staring Jack Point! All sorts of weird Mega City One characters in the background and Jack in his classic pose. Get the Point? Brilliant stuff!
Let's dive straight into the last episode of the
Dredd
and
PJ Maybe
story
Monsterus Mashinashuns
. It didn't disappoint and what a great set up for later events! Dredd returns to MC1 and starts thinking things through. Could Don Pedro Montez really be Phillip Janet Maybe? Did he fake that cut finger... I'll say no more. Suffice to say there is a chase and a stand off between Maybe and Dredd. If, like me, you know the story from here, the ending won't be a surprise, but otherwise... ;-) Top marks Wagner and Ezquerra.
Oh joy of joys,
The Simping Detective
is back! And still with Spurrier and Irving at the helm. This episode of the new story
Playing Futsie
sees Jack locked up in a Cube with a nutter who recounts how he ended up there. The clue is in the title. Suffice to say Jack can't tell who is being played for the patsy here, and has his suspicions. Good opening episode, and looking forward to the next one. Basically, I think it would be very difficult for Spurrier and Irving to cock up this fabulous character...
Part 4 of the
Devlin Waugh
adventure
All Hell
sees our trio of heroes still in pursuit of the trio of evil guys. The enemies lay a number of traps, but are Devlin and the team are equal to them? The mystery deepens as to what exactly they are up to. Yeah, still enjoying this one. Lots going on and as we descend deeper into Hell, there are more nasty things to fight. Good job by Smith and MacNeil and looking forward to the next episode.
Young Middenface
returned, but we have had a change of artist; Shaun Thomas is stepping in. This is set post-Killoden and we discover that mutants are more hunted and more persecuted than ever. We see a 'norm' boy deliver a message to his uncle, a message that sets off an unexpected chain of events. I quite like the new art, although it will take a little getting used to, but Grant is as on form as ever and has introduced an interesting new storyline...
Also returning was
The Bendatti Vendetta
, with Robbie Morrison and John Smith on scripting and painting duties as before. Set in Naples, the team are tracking a mafia organisation and targeting the head of the operation. Why? We don't know. We may never find out, I don't know, but it's good, solid spies and baddies stuff here. Not very Sci-fi. Not Dredd. But I like it. Others, I fear, will not.
Just when we thought there might be a chance
Anderson
was back to some arse-kicking it's gone all weird again as she enters into the Chief Magician's head... She does do a bit of fighting at the end, but we are back to slogging through peoples minds again. Getting a bit tired of this storyline now. It's been going on for a very long time, and I just wish we would get on and wrap it all up... Lovely Ranson artwork on display as the Mega City continues to fall to the Half-Life virus. Especially the exploding space cruiser...
Charley's War
was back. Hurrah! Charley is back in Blighty, but if he thinks he's getting a rest, he is much mistaken as the threat of the Zeppelins looms large. Good to see a different perspective on the First World War focusing this set of stories on the home front.
Metro Dredd
took the TV show Big Brother and gave it a 22nd Century makeover, complete with Dredd being kidnapped to appear in it. A bit silly, but it was OK...
Onto the text articles and
Robbie Morrison
was being grilled in the
Interrogation
slot. It was interesting to hear Robbie recount his childhood and how he nearly didn't make it into comics. Part 2 is in the next issue, which I think might focus a lot on Nikolai Dante.
The Avengers
were the
British Icons
and this was a great article charting their history. I'm a big fan of this show so it was good to get some insight into how it got started and evolved over time. And I still secretly fancy Emma Peel to this day...
The Dredd Files
lumbered on... Over in
Heatseekers
, Si Spurrier watches the
Movie
Conan The Barbarian on DVD and delights in the experience. The Outer Limits was explored in the
Cult TV
column.
And finally... In
Dreddlines
, James Feist believes Anderson should grow her hair back because she is no longer the "...foxy, ravishing, sexy nymph" she once was. What is it with these chaps that need a nymphette Anderson? Just be content with fleeting shots of Shakta, Jim! :-)