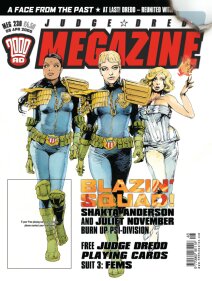 (
Link to BARNEY
)
A bit of a "Here Come The Girls" theme to this Arthur Ranson cover with the three female stars of the current Anderson story. It's quite plain, but I liked it, especially the 'burnt' corner, although there is a slight optical illusion that Shakta is looking to her right, when she has no pupils. On closer inspection she isn't, and it's such a minor gripe, but it irritated a little... I will try not to be that petty again :-)
We had a 'feature length' John Wagner
Dredd
called
Judging Ralphy
(with art by Dave Taylor) and I really got stuck into this and enjoyed it a lot. There is a Jimp (Judge Impersonator) loose in the city and Dredd is on his tail. It's not as simple as that though as it is a person from Dredd's past with whom he had a complex relationship. There are flashback scenes in the story, done in greyscale, and drawn in a different style by Taylor. Dredd is drawn like he was in the early Progs of the 70s and this was a clever way to handle the scenes from the past. I'm not sure everyone will like Dave Taylor's art in the main section, but the story was very good and I was absorbed.
The
Shimura
storyline
Deus X
finished in this issue and I was pretty happy with how it resolved. This is another example of a story I would like to have seen built up over more episodes, but as it stands, it did the best it could. It did feel rushed, though. There are other graphic novels out there called Deus Ex Machina, the name of the Terrorists in this story. Coincidence? Or building on this universe? We are left with a little teasing 'Cliff hanger' so we will see how this builds if Shimura returns.
Bato Loco: Head Job
only lasted two parts. Still, it was fine as it stood. It was a pretty simple story so there wasn't a lot of pacing issues. I think Gordon Rennie is one of the best at scripting these shorter stories. Simon Colby's art was spot on as usual with this character. Still plenty of life left in Bato Loco, so hope to see him back again soon...
We had the return of the
Whatever Happened To
slot, with this issue looking at how
Melda Dreepe
turned out. If you have read Block Mania, she was the spark that started the storming of Enid Blyton block by Dan Tanna which eventually turned into the Apocalypse War epic. Alan Grant scripted this with art by Steve Roberts. It was all passable and pleasant enough, but didn't really go anywhere or do anything. At only six pages it was going to be a tough ask anyway. Bit of a waste of space really...
The Bogie Man
lumbered on somewhat. I'm reading it, it's OK, but I'm not that bothered about it. All the elements are there, but we seem to have become distracted from the main event of the Albanian slave workers and we now have a kidnapped Scottish celebrity. Scratching my head a bit on this. Of course, it may all come together brilliantly in the end. I hope so. I don't hate it, but in the language of the kids, it's a bit Meh...
The
Anderson
story,
Lock In
, wrapped up thanks to the team effort of Anderson, Shakta and Juliet November. Yep, the fire starter from the first few issues of the Meg makes a return to play an important part in the story's resolution. It was all finished off quite nicely and I thought 'Yep, let's leave Anderson for a bit and have a new character next issue'. But no. She's back in a new story next issue. To be honest, I'm a bit fed up with this story arc of hers. I really hope we get back to some street judging rather than this fairly intense psychological journey she seems to have been on for a number of issues. Let's see what happens. The cynic in me wonders if there is half an eye on the trade paperback...
The reprint was a
Dredd
called
Cardboard City
. Dredd is on the hunt for his former housekeeper Maria amongst the homeless of Mega City One. But others are also moving amongst the cardboard city for other more deadly reasons. Wagner and Cam Kennedy on duty for this one and it was a reasonably good tale. I hated the colouring. I know the old strips didn't have the benefit of modern digital techniques, but I'd much rather it had been black and white. I did my best to ignore it, but it irritated a bit. When are we getting Charley's War back, Sir Alan?
On to the text articles and
Cam Kennedy
continued to provide a fascinating look back over his career in the
Interrogation
slot, interviewed by David Bishop. It was interesting reading about the opportunities he perceived he missed, but he's quite pragmatic about it and doesn't seem to have any regrets. Really got absorbed by this article. In
Heat Seekers
, I read Si Spurrier's
Movie
column where he dissects all those little irritating continuity errors that creep into movies. This was a much better article and I reckon he should stick to this kind of material. Jonathan Clements reviewed an anime called Neon Genesis Evangelion in his
Orient
column. Sounds as mad as a box of frogs but I'm quite temped to give it a go! The
Metro Dredd
was nothing special. They are of some passing interest, but to be honest, if they went I wouldn't miss them. In fact, I'd be hoping they would be replaced with Wagner and Smith Daily Star Dredd!
And finally...Special mention has to go to
Gordon Rennie's
last ever
You're Next, Punk
. He looked back over his columns and shared some of the feedback he received along the way. They certainly seemed popular in the Megazine production office! All in all, I enjoyed these. I enjoyed Gordon's writing style, and he proved he can write entertaining commentary prose as well as a damn fine comic story. Thank you, Gordon, your spleen will be missed...