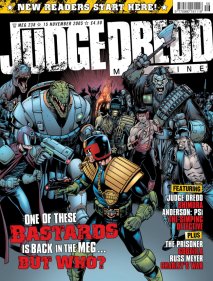 (
Link to BARNEY
)
I liked the cover art, but not the wording. Did the word "bastard" have to appear (apologies if that causes offence, I'm just repeating the text on the cover)? Run out of ideas? Lazy copy? Didn't need it, as far as I was concerned.... Anyway, let's not overlook Dylan Teague's fine drawing - which was fabulous.
Just a short review for this Meg, as I'm pushed for time, but it's going to start with a rant. Why, oh why, did they have to publish the 2nd part of a Dredd that had started in the Prog. It's a cheap marketing trick to try and get Prog readers to buy the Meg. And I'm not happy about it. I buy the Meg because it's different to the Prog - I get different stories, different characters, I like the text articles. Just leave them as two separate publications! Rant over (and in protest I didn't read the 2nd part to a Dredd I hadn't read the 1st part of!).
The
Dredd
that I did read was part 1 of
Blackout
by Wagner and Cam Kennedy. Looks like an interesting set up and am looking forward to seeing how it develops.
Part 1 of
The Harder They Come
, a
Shimura
new story, saw art duties switch to Colin MacNeil, but he is using pen and ink rather than painting it. So the strip has gone from full colour to black and white. It took a little getting used to, but MacNeil is a master of all art forms (I bet he makes a mean clay pot too) so there is no real concern. Morrison's script is more than adequate, as usual, and I liked this episode very much.
As this is a "New Readers Start Here" issue, it's another part 1 and this time it's a new outing for
Anderson
in the story
Lucid
. Got to be some of the best work Ranson has done in the Meg, for my money, with some tender moments followed by some violent and horrible ones. All beautifully painted. Too early to tell if this will be a hit with me, let's see how it goes.
The Simping Detective
sees Jack wondering if Cliq is getting a little too big for his alien killing-machine boots (or tentacles). The SJS are on Jack's back as well. How will our fun-loving simp get out of this predicament. Spurrier and Irving rock. Nuff said.
In the reprints,
Charely's War
remains a must read and the
Metro Dredd
was passable as well.
In the text sections, the
British Icon
was
The Prisoner
was profiled expertly by Alistair McGown. I learnt a lot about this series that freaked me out when I was younger, but which I avidly viewed. David Bishop continued exploring the origins of the Meg in
15 Years Creep
. I did wonder if I would lose interest in this, but not so far. I haven't read any of these Megs, but it's still a good read. I read all the sections of
Heatseekers
this time, and I particularly enjoyed the origins of Godzilla in the
Orient
section.
And finally...
Dreddlines
had a defence of the request for Anderson to have flowing locks once more and plenty of people agreeing with me that cover
236
was awful.